Wheel Potential wishes to express its gratitude to the following individuals and
organisations without whom the whole project would not have been possible.
Starting up
A number of organisations shown below were instrumental in helping us establish Wheel Potential from its start in 2016:-
Omigaman Limited  generously developed a bespoke booking system, free of charge,
and they have also  designed and developed our website at no cost to the club.
The Directors themselves funded the purchase of the wheelchair transporter
and of the shipping container. Paul Rees donated the recumbent trike.
Wheel Potential Donors and Supporters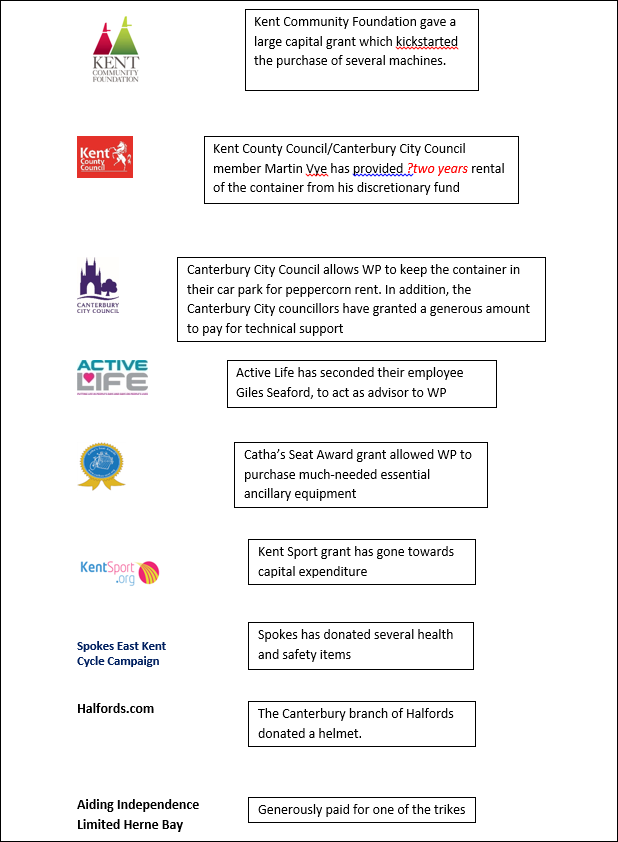 Our Second Container
In 2018 we were very pleased to receive a second container kindly donated by BAM Nuttall Construction which was installed at Toddlers Cove again with the support of Canterbury City Council. We were also very grateful to DDS Demolition Services of Margate who did fantastic work in preparing the ground for the second container and building an access ramp.
Expansion in 2018 and running costs 
We are also very grateful to the following for their kind donations and grants in 2018 to help Wheel Potential expand its facilities to more user groups in the local communities:-
The Beerling Foundation Trustees
John Tubb
Catha's Seat Committee
The Go Ability Trust
Spokes East Kent
Cantiacorum Foundation
KCC Transport Innovations
Gallery: